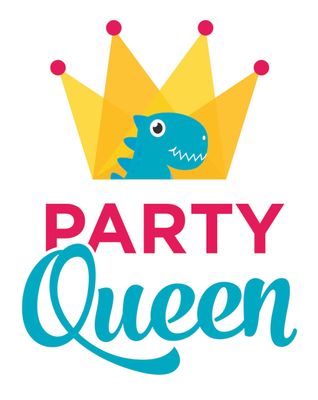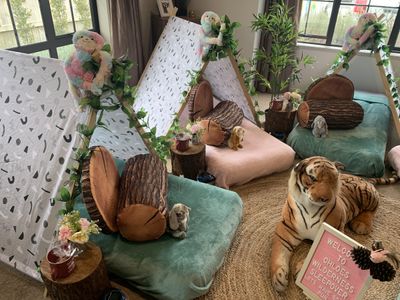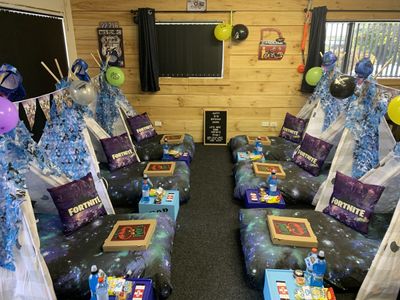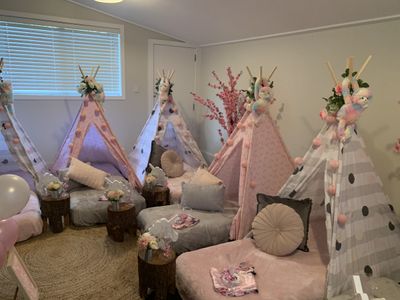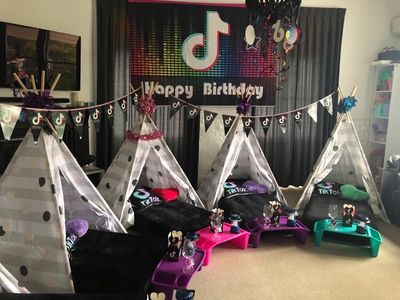 Tents or Teepee DIY Sleepover
Unisex
$25.00
Invite your friends for a fun filled sleepover party! Have fun setting up this DIY party yourself.
Collections for your weekend of fun are on the Friday before your party and returns are not due back until the Monday following, keeping the stress levels to a minimum.
Each tent or teepee & accessories cost $25 per tent setup plus a refundable bond.
* Cleaning costs may also apply
Enquire now by email or phone for our theme options and what additional items are included per individual setup, we are sure you will be pleasantly surprised at what is included in each setup.
Tent
Single Airbed
Electric airbed pump
Single fitted sheet
Single plush blanket (colours vary to match theme)
Decorative pillows
Side tables or breakfast trays
Flowers or ivy to twist on teepee's
Side table decorations
Night lights
Hanging lights
Artificial trees or plants
Animals
Personalised welcome sign
and more .............
The following themes are available now, if you can't see it just ask and we will try our best to make your little one's dream come true
Unicorn
Pirates
Jungle
Army
Fornite
Tik Tok
Sloth
Pretty Pink & White Boho
Woodland - Jungle
Disco
Please Note:
Your party date & theme is confirmed once we have received your deposit of $50 and the balance of your invoice is due in full 2 weeks prior to the party date.
Contact will be made with you on the week leading up to your Party to confirm a collection time on the Friday.
Returns are due on the Monday following the party weekend.
If you are holding your party outside we also have Gazebos for Hire.
More than 8 Children - No problem we can work out a Custom Package to suit your needs.
Goodie Bags or Thank you Gifts, we can also arrange, starting from $5.00 each.
Items may vary from pictures shown or description above. Where items have changed a suitable substitute will be added to your package. Packages may be altered to suit your requirements.
A $50 - $80 bond is applicable on all hire equipment. See terms and conditions for more information. Please contact us to confirm availability of this hire package for your party date. If payment is made prior to confirmation from Party Queen and the party package is unavailable on your specified date, we will work with you to reschedule or refund the payment.
SKU: TentDIY